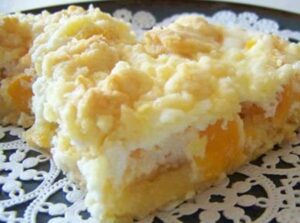 Creamy Peach Pie Delight is a wonderfully simple dessert that's perfect for parties. Just a few ingredients blend into a sensational tasty fruity treat.
Welcome to one of the most delicious weeks of the entire year, #SummerDessertWeek! Summertime is the perfect time to add some new sweet treats into your life. There are all sorts of opportunities to enjoy sweet treats during the summer: picnics, BBQs, potlucks, graduation parties, the list goes on and on.
Ingredients:
1 package of white or yellow dry cake mix
1/3 cup butter, room temperature
2 large eggs, divided…
29-ounce can of peach slices, drained
8 ounces of Cream Cheese, room temperature
1/3 cup of sugar
1 teaspoon Vanilla Extract
Please continue to Next Page (>) for the full list of ingredients and complete cooking instructions.
SAVE IT FOR LATER IN PINTEREST